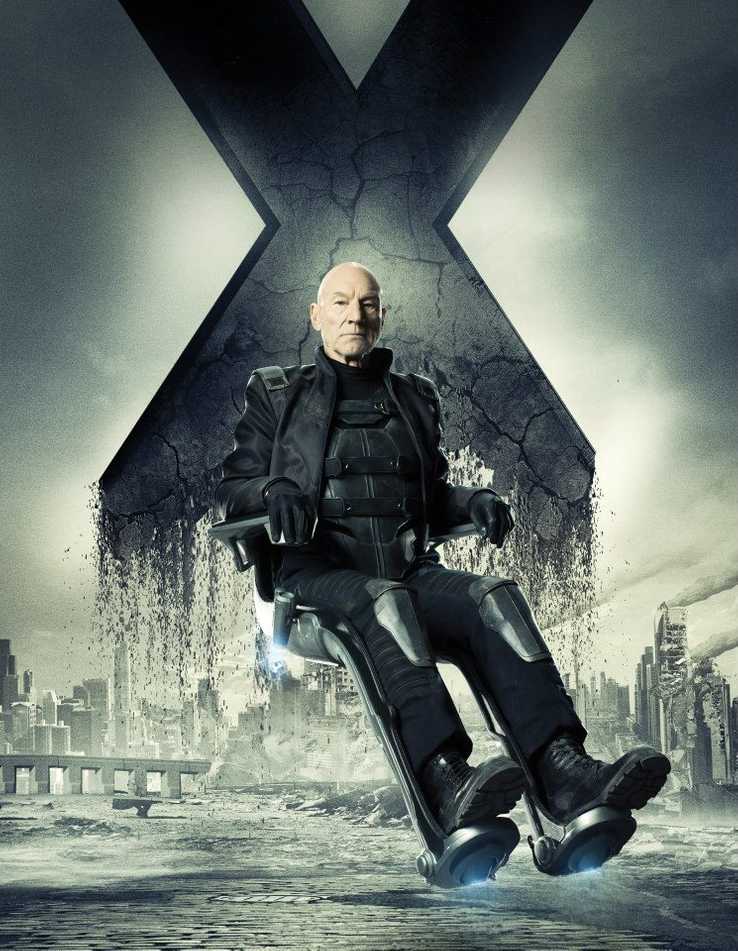 • Let us begin the second instalment of Continuity Notes with an enigma of Professor Charles Xavier. In the first X-Men film, the Professor states that he met Erik Lehnsherr when he was 17 years old. Seeing as we know that young Charles was born in 1932, this meeting would theoretically occur in 1949. However, in X-Men: First Class, this meeting occurs in 1962 - when Charles was 30! You could go down the route of saying that the two met earlier, but this is obviously their first meeting. Seeing as Professor X is so intellectual, I would find it hard to believe he could misremember this detail. Therefore, Xavier should have just said "30" in the original X-Men for continuity.
• Also in the first X-Men movie, Charles acts confused when he cannot reach Magneto's mind with Cerebro, despite Erik using the helmet in X-Men: First Class. Although, it seems that later iterations of the helmet were more resistant than earlier. What I mean is that with Sebastian Shaw's helmet, telepaths could still locate the individual, whereas Magneto's later helmets were able to hide from Charles' searches with Cerebro. Magneto also lined his bases with this resistant substance, hence why Charles could not locate any of Magneto's Brotherhood of Mutants, instead of just not considering looking for them.
• The X-Mansion changes between films. The differences are in the roofing: where later there are sloped tiles, earlier in X-Men: First Class, there are more castle-like spires. It seems that later, the mansion was made more homely and was expanded to fit in more dormitories for students by making the top floor more usable for living space.
• Another odd memory of Charles' is that he and Erik built Cerebro, when in X-Men: First Class, it was built by Hank McCoy. However, we see in the revised timeline that Magneto helped to rebuild a later version of the machine. This may be the case in the original timeline, as the pair's working relationship was restored by 1986. So, Magneto could have at least helped in the manufacturing of a later version of Cerebro. Alternatively, Erik could have even moved and improved the original Cerebro to inside the X-Mansion. An after thought: how was it that Magneto was able to work again with Charles after their misunderstanding in the 1960s? Well, if he was able to prove his innocence with the curved bullet incident, then Charles may respect him more, as he did in the revised timeline. They could have then worked together at the school, until Magneto reformed his Brotherhood of Mutants to combat governmental anti-mutant ideas.
• A more striking mistake in the continuity would be the Professor's inconsistent mobility. In cameos and flashbacks in both X-Men: The Last Stand and X-Men Origins: Wolverine, he can walk in 1979 and 1986, when he was paralysed by a stray bullet in 1962. Even though X-Men: Days if Future Past appeared to solve the issue with a serum developed by Beast, Charles either could walk or use his telepathy - both of which he could do in both of the flashbacks. In my opinion, Xavier should have been in a wheelchair in both appearances. Even though Beast created a cure, he was surprised by Leech's abilities in 2006. This was hardly surprising, as it changed his appearance with proximity instead of injection. Beast was only baffled that the government would go ahead with distributing the cure, that he thought could not possibly work permanently (which ended up being true).
• On a similar topic, the First Class do not seem to age at all between X-Men: First Class in 1962 and X-Men: Apocalypse in 1983. If someone is born before the timeline deviation, they should be born in the same year and also age at the same rate. Charles was 12 when portrayed as a child in 1944, he was 30 in X-Men: First Class, 41 in X-Men: Days of Future Past, 47 in X-Men Origins: Wolverine, 51 in X-Men: Apocalypse, 54 in the X-Men: The Last Stand's flashback, 60 in X-Men: Dark Phoenix, 71 in X-Men and X2: X-Men United, 74 in X-Men: The Last Stand, 86 in Deadpool 2, 91 in the revised 2023 in X-Men: Days of Future Past and 97 in Logan. In the post-credits scene of The Wolverine and the original 2023 of X-Men: Days of Future Past, he was in the body of P. Xavier, who may have aged differently in his coma and looked slightly younger. I believe that there was valid ageing between 1962 and 1973, and X-Men: Apocalypse's bald Xavier was close to the de-aged Stewart in flashbacks, however X-Men: Dark Phoenix could have gradually moved MacAvoy's appearance closer to Stewart's. I do also think that 1983's Xavier could also be a bit closer to Stewart's Professor. The flashbacks should also have a similar appearance to MacAvoy. However, the cameo in Deadpool 2 should be Stewart's Xavier without debate. A thought about the twin P. Xavier though: why was he still in a wheelchair? Well, seeing as he is identical in genetics, both would have abilities and being in a coma for so long may restrict his mobility. Although, where was this twin all this time? Did he also use his abilities? This we do not know. The fact that Charles was able to control his abilities early in his life (12 years old at oldest), he may have been able to protect his twin from his abilities and he lived an ordinary life, until he entered a coma. He may have died in the revised timeline by a later date and Charles would never need his body, as the Dark Phoenix event already occurred without incurring his demise.
• The relationship between Mystique and Charles seems to have disappeared between X-Men: First Class and X-Men. After so many decades of not seeing each other, it is hardly surprising that she lost feelings for the Professor. She was happy to tamper with Cerebro and she never so much as sees Charles in sequels. The relationship was mentioned in X-Men: Days of Future Past's original future, so Charles at least remembered Raven.
• The school seemed to be renamed to Jean Grey School after X-Men: Dark Phoenix by Deadpool. This may be because Jean returned and the touching tribute was no longer necessary. As for why it was not renamed in the original timeline after her death, Charles had also died in the incident, so it was still fitting that the school continued to sport his name.
• Did the X-Men fight the D'Bari in the original timeline? If so, why is it not mentioned? Well, it seems they would not have, as the X-Men were not public heroes in 1992. The alternate timeline could also have caused this event to go differently and the space mission went differently. In any case, Jean is not possessed by the Phoenix Force and and D'Bari would continue to track it.
• In X-Men: Apocalypse, Charles saga that Jean's mind is the most powerful he has ever encountered. Whereas Stryker states that Professor X is the most powerful telepath. As Stryker may not even be aware of Jean's powers, these conflicting statements are hardly surprising.
• Another thing from the first X-Men movie, Charles says that Phoenix, Cyclops and Storm were his first students. We know that they weren't from X-Men: First Class. What he may have meant is that they are the first students he had the pleasure to teach... that are still at the school. Also, the origins of this trio and their ages are debatable. In X-Men: First Class, some suppose that a few Mutants looked like Storm and Cyclops . They are definitely not the right ages and Storm was not even born! So they are not their younger selves. Also in 1986's flashback with Magneto and Jean, Jean should have been an adult. This should really have been done right. I suggest an adult Jean in this scene, maybe undiscovered in this timeline did to her not killing her parents.
Join us next time when we try and figure out just how many helmets Magneto made and/or stole!