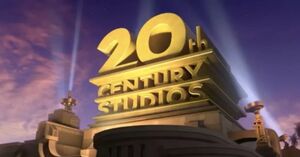 20th Century Studios,[1] formerly known as 20th Century Fox, is an American film studio that produced the X-Men film series after purchasing the rights from Marvel Entertainment. For over 18 years, 20th Century Fox distributed the X-Men films until The Walt Disney Company acquired the studio in 2019, along with other entertainment assets owned by 21st Century Fox.[2]
Trivia
X-Men: Dark Phoenix and The New Mutants are the only X-Men films produced by 20th Century Fox not to have been distributed by them. This is because Walt Disney Studios Motion Pictures acquired the distribution rights to all of 20th Century Fox's films after the studio was purchased by The Walt Disney Company in March 2019.
The New Mutants is the first film in the X-Men franchise to be released under the "20th Century Studios" banner.
X-Men was not the only Marvel property adapted to film by 20th Century Fox. The studio also produced Daredevil (2003), Elektra (2005), Fantastic Four (2005), Fantastic Four: Rise of the Silver Surfer (2007), and Fantastic Four (2015).
Gallery
References
Further Reading
Community content is available under
CC-BY-SA
unless otherwise noted.