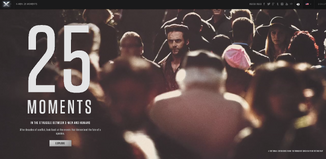 www.25moments.com
is a website created by Fox in April 2014 as a part of the marketing campaign for 
X-Men: Days of Future Past
 along with trask-industries.com and TheBentBullet.com. The website is a series of interactive history lessons about the 25 most significant events in mutants history since 1962 (at the ending of 
X-Men: First Class
) to the year 2018.
The website reveals information about many events that never seen on screen before, explains the deaths of several characters in previous movies, as well as giving audience a tease of some new characters that would later appear in X-Men: Days of Future Past.
The events listed in 25 Moments are considered official canon in the X-Men Movies universe. Nonetheless, due to the timeline being altered in X-Men: Days of Future Past, any listed events that happened since 1973 is no longer pertinent in the new timeline.
Gallery
Casualties
1963: Erik Lehnsherr is implicated in Murder
1973: Trask Industries announces the Sentinel: Mark I program
1988: Berlin Wall Protests
2011: March on X-Mansion
Media
Community content is available under
CC-BY-SA
unless otherwise noted.