Line 1:
Line 1:
−

{{Gallery}}

 
 

{{Team

 

{{Team

 
+

|image = Apocalypse feat. The Four Horsemen (1983 - Revised Timeline).png

−

|image =

 
 

|leader = [[Apocalypse]] <small>(deceased; revised timeline)</small>

 

|leader = [[Apocalypse]] <small>(deceased; revised timeline)</small>

 

|members = [[War]] <small>(formerly; deceased)</small><br>[[Famine]] <small>(formerly; deceased)</small><br>[[Death]] <small>(formerly; deceased)</small><br>[[Pestilence]] <small>(formerly; deceased)</small><br>[[Storm]] <small>(formerly; revised timeline)</small><br>[[Magneto]] <small>(formerly; revised timeline)</small><br>[[Psylocke]] <small>(defected; revised timeline)</small><br>[[Angel]] <small>(deceased; revised timeline)</small>

 

|members = [[War]] <small>(formerly; deceased)</small><br>[[Famine]] <small>(formerly; deceased)</small><br>[[Death]] <small>(formerly; deceased)</small><br>[[Pestilence]] <small>(formerly; deceased)</small><br>[[Storm]] <small>(formerly; revised timeline)</small><br>[[Magneto]] <small>(formerly; revised timeline)</small><br>[[Psylocke]] <small>(defected; revised timeline)</small><br>[[Angel]] <small>(deceased; revised timeline)</small>
---
Revision as of 14:27, 13 March 2017
"Wherever this being was, he always had four principle followers. Disciples. Protectors he would imbue with powers."
The Four Horsemen of Apocalypse (also known simply as The Four Horsemen) was a team comprised of, at a single time, the four elite followers of En Sabah Nur.
Origin
The Four Horsemen are Apocalypse's personal warriors and always play a key role in his plans for mutant conquest and domination.
Biography
Original Timeline
The first known incarnation of the Four Horsemen are seen in Ancient Egypt, watching as their master uses his powers to construct the pyramids while a vast crowd of people bow before him, chanting his name.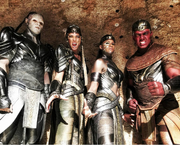 Around 3,600 BC, in Cairo, Apocalypse was ready to transfer himself into another body; this time being a mutant with a healing factor like that of Wolverine's, allowing Apocalypse to heal from any wound and granting him greater power, including near-immortality. The Four Horsemen of that time accompany him inside the pyramid, where Apocalypse's followers betray him and destroy the pyramid, killing three of them. As the final living Horseman falls into a deep chasm along with Apocalypse's new body and previous body, protecting him from the rubble as she also died, entombing Apocalypse for thousands of years.
Revised Timeline
Apocalypse awakens in 1983, and immediately recruits his new Horsemen. He first recruits Storm, turning her hair white, granting her even greater power over nature. He travels to East Berlin along with Storm to find more mutants with the help of Caliban. There, he meets Caliban's enforcer Psylocke, who he then entices by strengthening her power, recruiting his second horseman. Psylocke leads him to Angel. Apocalypse turns Angel's wings into metal, and recruits him, too.
For his final horseman, he and the others travel to Poland, where they find a vengeful Erik Lehnsherr about to kill a room full of men who had reported him to the authorities, resulting in his wife and daughter being killed. Apocalypse quickly disposes of them, and takes Erik to Auschwitz. Erik destroys Auschwitz, and joins Apocalypse as his fourth and final horseman.
Members
These are four mutants that Apocalypse would choose to fill the four roles in his conquest: Pestilence, War, Famine and Death.
Previous Horsemen (3600 BC)
New Horsemen (1983 AD – Revised Timeline)
Trivia
In the comic books, Apocalypse has often manipulated different mutants into being his Horsemen. Examples include Angel, Wolverine, Gambit, Psylocke, Banshee and Polaris.
Each Horseman embodies a different horror that humanity has constantly been faced with: Pestilence, War, Famine and Death.
Bryan Singer stated the Four Horsemen chosen for X-Men: Apocalypse reflect real-world cults and how they tend to have factions associated with politics, military, sex or youth.[1]
Magneto and Storm's roles as Horsemen are similar to their X-Men Evolution counterparts, War and Famine, respectively.
The Horsemen of Apocalypse were originally created by Louise Jones Simonson and Walter Simonson.
References
External links