"This one robbed seven banks...at the same time."
―Mystique about Multiple Man
Multiple Man (born James "Jamie" Madrox) is a mutant who can duplicate himself and has a history of robbing banks.
Biography
James Madrox's name appears on Colonel William Stryker's computer when Mystique was looking for Magneto's file.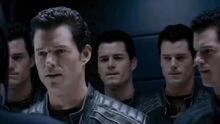 While Magneto rescues Mystique from a prison convoy, he recruits the other imprisoned mutants, including Multiple Man and Juggernaut. He served as a decoy when the government attempted to arrest the Brotherhood at their temporary camp. Although he is arrested again, it is uncertain if he was injected with the cure upon his capture.
Powers and abilities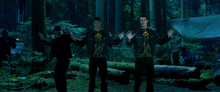 Relationships
Friends
Enemies
Trivia
External links
Community content is available under
CC-BY-SA
unless otherwise noted.