Mutants are human beings born with what is known as the X-Gene, which usually expresses itself in the form of superhuman abilities that manifest at puberty or periods of heightened emotional stress. Though some mutants can pass as ordinary humans, there are those who have visible physical characteristics that signify their mutant nature. Mutants are believed to be the next evolutionary phase of humanity.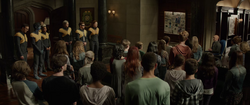 History
Pre-Discovery
En Sabah Nur
. James Howlett and Victor Creed, who fought in important wars of American history, were the next, earliest known mutants. By the time of World War II, mutants became a more widespread phenomenon, though humanity at large continued to be ignorant of their existence. Alternatively, the Nuclear Age caused an acceleration of the mutant gene, finally making a species of them.
It was not until the 1960s when the existence of mutantkind was revealed to the U.S. Government during the Cuban Missile Crisis, which was orchestrated by Sebastian Shaw, who sought to destroy baseline humans so that mutants could rule the Earth, with Shaw as their leader. His plans were thwarted by a group of mutant misfits, who used their unique gifts to prevent a nuclear war, effects of which would cause the mutant gene to become truly dominant on the planet, with humanity becoming extinct as a result. However, their heroic actions exposed mutants to the world in irrevocable ways.
Quotes
Notes
In the Marvel comics, the latin taxonomy of mutants is Homo superior (or Homo sapiens superior) like how humans are classified as Homo sapiens.
The Marvel Cinematic Universe equivalent of mutants and mutates are referred to as "enhanced" or "enhanced individuals".
Community content is available under
CC-BY-SA
unless otherwise noted.