This article is about the film. You may be looking for the team of the same name.
"My father used to tell me that... inside every person, there are two bears. One bear is all things good. Compassion, love trust. The other is all things evil. Fear, shame, and self-destruction. I asked him, "Which one wins?" He answered, "The one you feed.""
The New Mutants is a 2020 superhero-horror film. It was initially slated to be released on April 3, 2020, however, due to the COVID-19 pandemic, it was delayed to August 28, 2020.[2] Along with being the shortest film in the entire franchise, at 94 minutes, it is the thirteenth and final installment in the X-Men film series.
Synopsis
In this terrifying, action-fueled film based on the MARVEL comic series, five young people who demonstrate special powers are brought to a secret institution to undergo treatments they are told will cure them of the dangers of their powers. Included are Danielle Moonstar aka Mirage (Blu Hunt), who creates illusions from other people's fears; Rahne Sinclair (Maisie Williams), who transforms into the werewolf Wolfsbane; Sam Guthrie (Charlie Heaton), who, as Cannonball, can fly at jet speeds protected by a force field; Roberto da Costa aka Sunspot (Henry Zaga), who absorbs and channels solar power; and Illyana Rasputin aka Magik (Anya Taylor-Joy). The younger sister of Colossus, Magik becomes encased in armor at will and wields a sword that amplifies her multiple superhuman and psychic abilities. Invited by Dr. Cecilia Reyes (Alice Braga) to share their stories about when their powers first manifested, the five "patients" come to understand that they are in a class of people called mutants, who have historically been marginalized and feared. As they relive their origin stories, their memories seem to turn into terrifying realities. Soon, they question what is real and what isn't, and it becomes clear that the institution isn't what it seems. Now the question is — why are they being held captive? And who is trying to destroy them? The tension and horror mount in this white-knuckle thrill ride directed by Josh Boone and co-written by Boone and Knate Lee.
Plot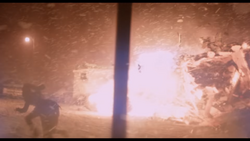 Dani Moonstar is awaken by her father, William Lonestar, and rushed out of their Cheyenne reservation which is under attack by an unknown entity. As William leaves Dani to hide in a tree stump, he is killed and Dani runs and is knocked unconscious. She awakens in an abandoned hospital (Milbury Hospital) run by Dr. Cecilia Reyes who informs her that her entire reservation has been killed and that she is the sole survivor.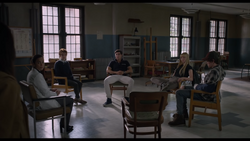 Dani is introduced to four other young teenagers; Sam Guthrie, who can propel through the air, Illyana Rasputin, who can conjure magic and travel between another dimension called Limbo, Roberto da Costa, who can transform into a humanoid sun and Rahne Sinclair who has lycanthropy. Reyes has each of them there after they have all suffered a tragedy; Sam brought a whole mine on his father and coworkers, Roberto burned his girlfriend, Rahne escaped her religiously strict village who branded her and Illyana was haunted by her past in child slavery as well as otherworldly beings called the Smiley Men. Reyes has them stay at the facility as she herself has the power to create force fields.
Dani immediately becomes antagonized by Illyana who insults and belittles her. After a failed attempt at escaping, Dani tries to jump from the church tower, but is stopped by Rahne who takes an interest in her. Later at night, Sam is in the laundry room when he suddenly has a vision of his father, Thomas, and his fellow miners and awakens from his stupor. Later, Rahne tries to use the confessional booth and begins hearing the voices of the villagers who chased her out. In anger and frustration, Dani finally snaps at Illyana who retreats to her comfort, a small hand puppet of a purple dragon named Lockheed.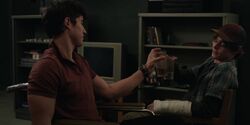 Eventually, the group come together when Illyana spikes Reyes' coffee with sleeping pills and they run amok on the grounds. They collectively believe that they are being trained to become X-Men, hence the strict supervision, as well as Reyes reminding them that they are considered dangerous and should not leave until they are under control. Dani and Rahne enter a romantic relationship with one another. Later, Roberto is swimming with Illyana, until she disappears and the burning manifestation of his girlfriend Juliana appears. Reyes awakens in time and puts Roberto out in the pool. He demands that they leave and during the confrontation, Reyes puts Illyana in solitary confinement.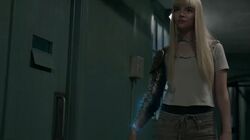 Reyes finally conducts an experiment on Dani and discovers that she can create illusions based on a person's psyche. As Dani goes under, she sees that Reyes has been conducting horrifying experiments on other Mutant children. Later, Rahne has another vision of Father Craig Sinclair appearing in the bathroom and branding her on her neck while Illyana has a vision of the Smile Men, demonic creatures who have haunted her since she was a child. The group find Rahne severely injured and Illyana confronts Dani, knowing what her power is now. Reyes prevents the two from fighting.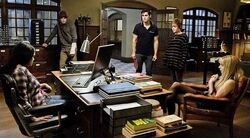 Reyes consults her employers who turn out to be Essex Corporation and they instruct her to kill Dani. As Reyes takes Dani away, Rahne immediately suspects that something is wrong. Illyana and Sam are attacked by the Smile Men while Roberto tries to break through the barrier which has shrunken down. Dani uses her powers to learn of Reyes' true intent, but Rahne arrives in time and severely injures Reyes, forcing her to flee. The New Mutants regroup and realize that in order to escape, they have to kill Reyes. They find her and she reveals that she was training them to be killers for Essex, but that Dani must die due to her dangerous Mutant abilities.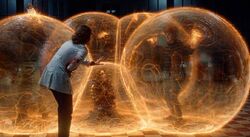 Just as Reyes is about to kill Dani with her powers, the Demon Bear, a creature that had been stalking Dani and was the one who attacked her reservation, arrives and devours Reyes; destroying all the barriers. The gang carry an unconscious Dani away and Illyana summons her powers to jump between limbo and recruits a real life version of Lockheed to take on Demon Bear.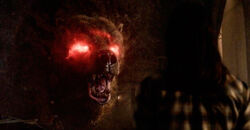 Sam, overcomes his anxiety while Roberto eventually overcomes his fear of burning others and they aid Illyana in fighting Demon Bear. Rahne attempts to speak to an unconscious Dani until she eventually goes to fight as well. Dani meets her father in the spirit world and he gives her the encouragement to fight back. She awakens and confronts the Demon Bear head on by talking down to it. She calms it and says that it can rest now; allowing it to dissipate.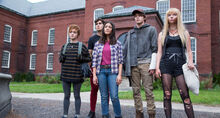 As the sun rises, the New Mutants collect their belongings. Sam notices that the barrier is no longer around them and they all decide to head into town (Reyes had told them that the nearest town was twenty miles out). Not knowing if she was telling the truth, they all decide to head out together as a family; facing the unknown.
Cast
Production
At a Fox Blu-Ray press event in Beverly Hills in September 2009, Lauren Shuler Donner confirmed that there are plans for a film involving the New Mutants. However, she stressed that it has yet to be pitched to the studio.
In May 2015, Deadline reports that Josh Boone was hired to direct and co-write, alongside Knate Gwaltney, a film adaptation of The New Mutants comic-book series.[9] Acting as a spin-off to the X-Men film series, the film will be written by Boone and Gwaltney, while Donner and Kinberg are attached to produce.[10]
In August 2015, Boone shared an image of the script which he was writing along with Gwaltney and was "not done yet."[11]
In October 2015, Boone had finished the script for the film with Knate Gwaltney, and tweeted that the first draft for the script is complete.[12] Kinberg has stated that the film will be a Young Adult movie.[13]
In May 2016, Kinberg confirmed that the script included Professor X, and stated his hope for filming to start at the beginning of 2017.[14]
3 months later, in August 2016, Scott Neustadter and Michael H. Weber, who had worked with Boone writing The Fault in Our Stars, were also working on the script for The New Mutants. The title team's roster had also expanded to include the character Warlock. Boone explained that he brought Neustadter and Weber onto the film to write a new draft of their script while he and Lee were busy on another project.[15][16] During the same month, it was reported that Scott Neustadter and Michael H. Weber would write the script with the films line up to include Danielle Moonstar, Wolfsbane, Sunspot, Cannonball, Magik, and Warlock.[17]
In November 2016, Coming Soon.net reports that Demon Bear would be the main antagonist in the film, the site also reveal that 20th Century Fox is currently targeting a Spring 2018 release date, the film's tone is describing as a "Stephen King meets John Hughes-style horror movie" and that Nat Wolff is being eyed for the role of Cannonball.[18] Boone announced, on his Instagram page, that Pre-Production has began.[19][20]
The film had entered pre-production in Boston, Massachusetts by April 2017, in preparation for filming to begin in that city. Location scouting had been taking place, including at Medfield State Hospital, which was previously used as a filming location for Shutter Island.[21] Fox scheduled The New Mutants for an April 13, 2018 release. Several weeks later, the studio officially announced the casting of Taylor-Joy and Williams, and was "making serious efforts to find ethnically appropriate actors" for the cast, widely searching for a South American to play Sunspot and a Native American to play Moonstar. By then, Kinberg was producing the film with Karen Rosenfelt; McAvoy was no longer slated to appear in the film; and Wolff was no longer in the running to portray Cannonball.[22][23]
In May 2017, it was reported that James McAvoy would not be reprising his role Professor X for the film. Even though his three-picture deal with 20th Century Fox was completed with the release of X-Men: Apocalypse, it has been expected that the studio will re-sign McAvoy so that he continue to portray Charles Xavier/Professor X -- one of the world's most powerful mutant telepaths -- in New Mutants and Dark Phoenix.[24][25] At the end of the month, Henry Zaga was expected to be cast as Sunspot, and Rosario Dawson — who also portrays the Marvel character Claire Temple across the various Marvel Netflix television series — was in talks to join the film as Cecilia Reyes, a mentor to the title group.[26][27]
It was explained that McAvoy was no longer involved due to Professor X being written out of the script with further drafts, and Alexandra Shipp's Storm had likewise been written out of the film. Additionally, Boone confirmed that the film would be "a full-fledged horror movie set within the X-Men universe. There are no costumes. There are no supervillains. We're trying to do something very, very different". He was particularly influenced by Bill Sienkiewicz' time as artist on the New Mutants comic, which he called, "a darker and more surreal and impressionistic X-Men series than we'd ever seen before".[28] Boone had previously stated that he does not like horror films, except for "classic ones" such as The Exorcist, Rosemary's Baby, and The Shining, but was looking to "pioneer and champion doing prestige versions of horror films" based on his love for horror novels such as King's works. At the end of the month, Charlie Heaton was in talks to portray Cannonball.[29]
At the start of June 2017, Zaga, Dawson, and Heaton were confirmed to have been cast, and newcomer Blu Hunt was cast as Danielle Moonstar after an extensive and challenging international search that prioritized "ethnic authenticity".[30][31] The character was believed to be central to the Demon Bear storyline that the film focuses on. At the end of the month, Dawson exited the film, and Alice Braga was cast as Reyes in her place.[6]
In early July 2017, ahead of the film's spring 2018 release, the cast of New Mutants has arrived for filming in Boston. Stars Henry Zaga, Maisie Williams, and Charlie Heaton have been spotted in the Massachusetts capital with filming expected to start any day.[32] Principal photography began on July 10, in Boston, under the working title Growing Pains.[33][34]
On September 13, the official logo for the film, courtesy of director Josh Boone, released as a blood-splattered and bear-mauled image, teasing the horror elements that will be on display in The New Mutants.[35] Peter Deming served as cinematographer for the film, with shooting ending on September 16.[36] After filming wrapped on New Mutants, Fox chairman and CEO Stacey Snider compared the setting of the film to a "Breakfast Club detention/Cuckoo's Nest institutional setting", and described the film as "a haunted-house movie with a bunch of hormonal teenagers. We haven't seen it as a superhero movie whose genre is more like The Shining.[37]
On October 2017, Boone said that A Nightmare on Elm Street 3: Dream Warriors was also an influence on the film. He confirmed that it is set in modern day; clarified that Warlock was not in the film, but could appear in a sequel; and said that the Demon Bear would not be the main antagonist of the film, just that "it's very much inspired by that run on the comics."[38]
On January 11, 2018, The New Mutants was pushed back to February 22, 2019, 10 months from its original release date: April 13, 2018. Insiders say one reason for the change is for the studio to avoid having an overlap with X-Men movies in certain overseas marketplaces, where The New Mutants and Deadpool 2 would have been in theaters at the same time.
In February 2018, it was reported that The New Mutants was undergoing reshoots to insert a new character before release [39].
On March 27, 2018, the film was pushed back yet again from its previously scheduled release date of February 22, 2019 to August 2, 2019. According to sources from Collider, Fox ordered reshoots to make The New Mutants scarier in tone, even going so far as to add a new character. While test screenings were reported to go well, and director Josh Boone was satisfied with his cut of the film, Fox felt that it was not "scary enough" and wanted The New Mutants to stand out tonally in a similar vein to Deadpool and Logan. As a result, it was reported that 50% of the film is undergoing reshoots, and one or two characters are being added in major roles than just cameos. Additionally, Josh Boone is said to be having creative differences with Fox over the reshoots. [40]
Josh Boone has stated that his original cut of the film would be released in theaters, as the planned reshoots never occurred. He also announced that a new trailer would be arriving on January 6, 2020.[41]
On March 12, 2020, the film was postponed without a new release date due to the COVID-19 coronavirus pandemic. Disney, at the time, hoped that they could release the film later in 2020.[42]. On May 4, the film was automatically listed for home media pre-order on Amazon based on the film's previous April 2020 release date. Amazon was quick in taking the listing down hours later after it had been widely reported on. At that time, the film was still expected to receive a theatrical release rather than be released straight-to-streaming as other films had been during the pandemic.[43] Shortly after on May 13, 2020, Disney scheduled the film for a release on August 28, 2020.[44] The film had a panel during Comic-Con @ Home, the virtual San Diego Comic-Con event, on July 23, 2020, with Boone and some members of the cast in attendance. A teaser for the film, to announce the panel, was also released.[45]
Videos
Trailers
TV Spots
Clips
Featurettes
Trivia
The film's storyline was inspired by the Demon Bear Saga from the New Mutants comics.[46]
Anya Taylor-Joy, who portrays Magik, previously starred in the 2016 horror film Split with James McAvoy, the actor who played Professor X in the X-Men film franchise. Much like The New Mutants, Split exists in a shared universe based on superheroes.
Josh Boone has stated that future sequels to The New Mutants are all going to have distinct horror tones. He also plans to introduce characters like Karma and Warlock.[47]
The first official trailer for The New Mutants features the song, "Another Brick in the Wall (Part 2)". The opening lines of the songs are: "We don't need no education / we don't need no thought control". This is an inversion of the New Mutants' origin from the comics, where they started out as students at Xavier's School for Gifted Youngsters. Fitting enough, Charles Xavier - the New Mutants' founder in the comics - has telepathic abilities that allows him to control the thoughts and actions of others.
While X-Men: Dark Phoenix was the last main X-Men movie under Fox, The New Mutants is the last movie in the X-Men universe overall.
The New Mutants is the first X-Men franchise movie to be released under the "20th Century Studios" label.
In earlier drafts of the film, it was originally going to be set in the 1980s like X-Men: Apocalypse. Professor X and Storm would have made appearances, among other connections to the X-Men universe. However, after X-Men: Apocalypse was a disappointment to the studio, the decision was made to gradually shift all X-Men projects to present day. Josh Boone noted that the time period was not the problem with X-Men: Apocalypse, but since The New Mutants occurs in an isolated setting that lacks modern embellishments, it essentially feels like the '80s without actually being set in that decade. This didn't change much of the story, though it did limit which characters they could use for the film. Boone stated in hindsight that it gave him the freedom to make the film its own thing.[48]
When Josh Boone pitched The New Mutants to 20th Century Fox, he sent them a PDF of a comic book that detailed a trilogy of films, each being a different kind of horror movie. While he did not disclose what the other two would be like, the first one would be supernatural horror. All of them would have been set in the X-Men universe and have repercussions on other movies in that world.[49]
The New Mutants was inspired by films such as One Flew Over the Cuckoo's Nest, The Shining, and A Nightmare on Elm Street 3: Dream Warriors.[50]
The film has had four release date shifts. It was originally slated to come out on April 13, 2018, but was first delayed to February 19, 2019 in order to conduct reshoots. Later, it was pushed back again to August 2, 2019 while Disney's purchase of Fox was finalized. It was pushed back yet again to April 3, 2020 to make room for the release of X-Men: Dark Phoenix (2019). On March 12th, 2020 it was postponed due to the COVID-19 pandemic. On May 13th, 2020 it was announced it's new release date will be August 28th, 2020.
The filmmakers described the film as "a haunted-house movie with a bunch of hormonal teenagers," and cite the works of horror storyteller Stephen King and teen drama filmmaker John Hughes as an influence.
This film features four members of the original New Mutants group (Cannonball, Mirage, Sunspot, Wolfsbane), with Magik being a member from the second roster.
Director Josh Boone is a major X-Men fan and owns a large amount of their comics.
A villain in the film wears a smiley-face mask. In the comics, the New Mutants faced off with a mutant supremacy group known as the Right, who wore smiley-face masks.
Illyana carries a dragon toy. This is a homage to Lockheed, a pet dragon owned by the X-Men (in the comics he was owned by Kitty Pryde, in this film he is owned by Magik).
The lettering for the promotional logo reflects the eclectic artistic style of Bill Sienkiewicz, who drew the New Mutants comic in the 1980s.
During the Comic Con @ Home panel that was released for the film on Wednesday July 23, 2020, several caveats of information were revealed to the fans, who were also treated to the opening scene of the film.[51]
Also on August 24, 2020, it was revealed that one week prior, Disney held a virtual press conference for The New Mutants.[58]
On August 25, 2020 it was announced that the Rose Bowl in downtown Los Angeles, California would be screening the film in a drive-in theater format starting on August 27, 2020 until September 13, 2020.[59]
However, also on August 25, 2020 several entertainment sites like AV Club, IndieWire, Screen Rant and others are not reviewing due to Disney not providing a digital screening for the film, and wanting the people who are covering this film, to go to a screening of the film amidst the Covid-19 Pandemic that is still affecting a large part of the world.[60]
References
External Links